I was called to help out an upgrade from Filemaker 11 to Filemaker 16. The overall process of upgrading was pretty easy and no problems in converting the files and getting the desktops upgraded.
I did get a call a couple of days later as users were unable to send emails from the Filemaker database via a custom script they had. Here is a screen shot of the server busy error message you get from outlook when sending an email from Filemaker.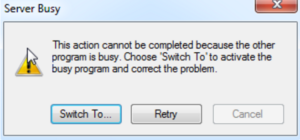 After some troubleshooting and calling Filemaker tech support, we found that outlook was running a 32 bit version and Filemaker 16 was running a 64 bit version. Apparently these programs need to be on the same version (either both 64 bit or 32 bit).
Because outlook was already installed on all the computers in this office I uninstalled the 64 bit version of Filemaker and installed the 32 bit one. Once I did this sending emails worked again like it should and no other problems were found.
So if you are getting this same type of error, take a look at which version of Filemaker and outlook you are running and make them the same.