Here is a quick tip on how to reset your Firefox settings.  If your Firefox has been crashing or not acting right this is a great way to restore everything back to the orginal default settings.
1. 
1. Start Mozilla Firefox in Safe Mode.
Start -> All Programs -> Mozilla Firefox -> Mozilla Firefox (Safe Mode)
2. Now on the windows that pops up select "Reset all user preferences to Firefox defaults" and click on makes changes and restart. (See screenshot below)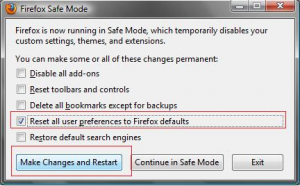 4. Now Firefox will open back up with its default settings and you should be OK from here. 
Hope this helps as this is a great little tip to get your Firefox working properly again.