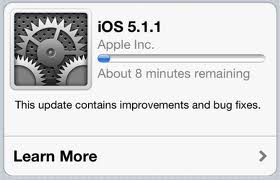 If you have having trouble updating your iPad or iPhone to the new iOS 5.1.1 here is a quick tip that should fix the problem of not downloading the update.
Go into your wifi settings and change the DNS server to 8.8.8.8
Now try and download the update again. If should work now and take about 20 minutes (depending on your connection speed) to download. Its about a 200mb update and once downloaded will take about 8 minutes to install. Once installed it will restart your device.
I would also check your apps to see if there are any updates for any of them.
RG